DISCOVER CAIRNS PAST & PRESENT
Offering a snapshot of our fascinating, beautiful, dynamic frontier region and its people, Cairns Museum's incredible collection holds the secrets and memories of the people, places, events and changing environment of Far North Queensland.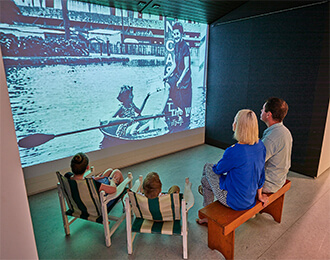 Plan your visit with useful information on what to do, where to find us and opening times.
Learn, play, explore and be excited at Cairns Museum with interactive, engaging and fun displays.
Keep the kids entertained with Cairns Museum's great range of inclusive kids and family activities.
CAIRNS HISTORICAL SOCIETY
Making history accessible for current and future generations. The
Cairns Historical Society has nurtured the collections on display at
Cairns Museum, led research into the region's past and continues to
preserve this remarkable history for generations to come.
Acknowledgement of Country
The Cairns Historical Society + Cairns Museum respectfully acknowledge the Traditional Owners of the lands on which we stand and we extend our respect to all First Nations Peoples across Cairns, Far North Queensland and the Torres Strait.
CAIRNS MUSEUM EVENTS AND NEWS
All
Museum News
Museum Events
These holidays come and try a fun, interactive KIDS ONLY audio trail during your visit to Cairns Museum.
The Cairns Museum is seeking friendly and courteous people to become a part of our energetic and rewarding team environment.
Have you ever donated something to a museum? Had it been in your family for ages and did you feel too guilty to throw it
Visit Us
The Cairns Museum has amazing stories to share about living in the tropics.

Stories of heat, sweat and hard work. Of cane, railways, rainforests and reefs. Of White Australia, Aboriginal resistance and European isolation. Tales of tourists, hippies and local celebrations, amidst humidity, cyclones, toads, mould and mozzies.

Come in and discover the real Cairns!